American Expeditionary Forces at 2nd Battle of the Marne and Chateau-Thierry
To the right of the US 2nd Infantry Division and to the east of Chateau-Thierry, elements of the US 3rd Division had contained another tough German rapier thrust south across the Marne and beaten it back earning the 3rd the sobriquet "Rock of the Marne" – a nickname it holds to this day.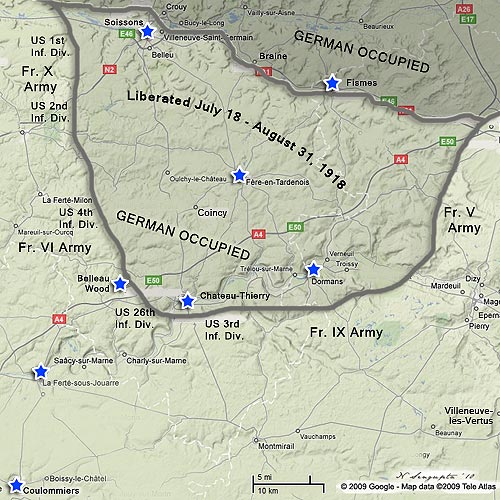 Map of Chateau-Thierry sector; Paris lies approximately 35 miles west of Coulommiers (bottom left corner)

Prior to the war, Chateau-Thierry had been a beautiful town home of 15,000 people tucked in a gentle bend in the Marne River. Now it had been reduced to a ravaged city with caved walls, blown off roofs, bridges dropped into the Marne and debris in every road. The Germans had dug themselves in and around the city and were going to be very difficult to dislodge. At the front of the salient just in front of Chateau-Thierry to its southwest lay Hill 204, which now became a Franco-American objective. It probably looked far easier than expected, but it was so well defended that it took the French and the Americans five hellish weeks to squeeze the Germans off of it.



(Photo Narayan Sengupta)
View of Chateau-Thierry from Hill 204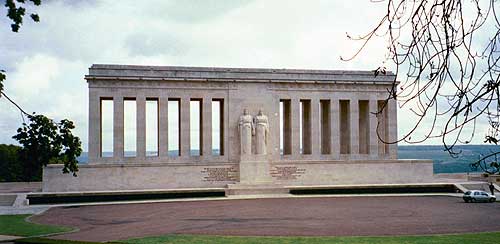 (Photo Narayan Sengupta)
Chateau-Thierry Hill 204 American Monument

Now there is a wonderful expansive monument – one of the nicest war monuments in all of France and perhaps the grandest of the American monuments – on the side of Hill 204, near the crest. From the hill, which overlooks Chateau-Thierry, one gets a better idea of how the battle unraveled around the city. The nearby Belleau Wood chapel and cemetery holds the remains of 2,300 American soldiers and is immediately below the small forest on the plateau that was the site of the bloody fighting. Both the Hill 204 American Monument and the Belleau Wood Cemetery make for a moving, but easily accomplished, day trip.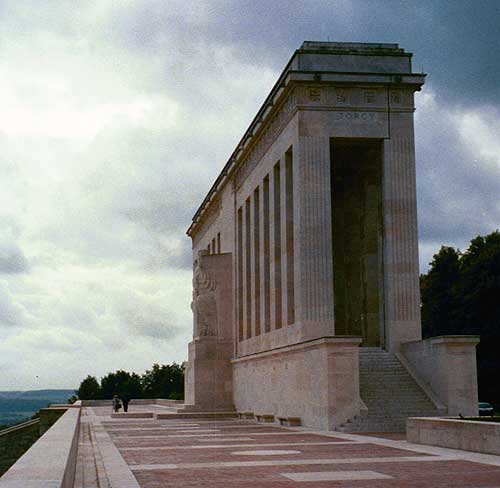 (Photo Narayan Sengupta)
Chateau-Thierry Hill 204 American Monument

Read Visiting Chateau-Thierry and Belleau Wood.

Back to Top.